6♦ 6♦ 6♦ 6♦ 6♦ 6♦ 6♦ 6♦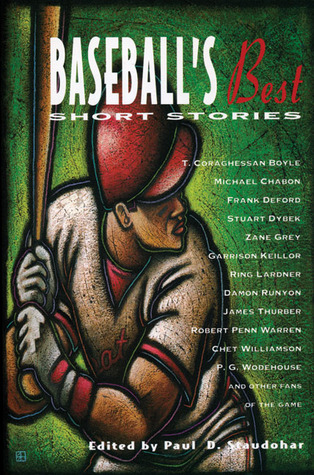 After a while, Magee himself, who had been awake for some thirty-two hours, drifted into an easy sleep. He dreamed his usual dream, the one in which he had found his stuff and was on the mound at Three Rivers throwing seven different kinds of smoke.
"Smoke" by Michael Chabon asks the question: Which is better – to see your mediocre baseball career go further down the tubes or to be dead? Matt Magee, the mediocre pitcher, asks himself the question as he attends the funeral of his catcher, Eli Drinkwater.
Is there ever a specific answer? No. But as Magee interacts with an aging sportswriter and Eli's wife and son, we can start to make out the answer in Magee's mind. Of course, we can't really get Drinkwater's perspective because he is – uhh – dead.
While a very nice story, I admit I was a little disappointed as the writing style and humor didn't hit me the way it did in Chabon's Pulitzer Prize winning novel The Amazing Adventures of Kavalier and Clay (the topic of my first post here at Mirror With Clouds) or his collection of funny essays Manhood for Amateurs.  
I selected this story when I drew the Six of Diamonds for Week 29 of my Deal Me In 2016 short story project. My Deal Me In 2016 list can be found here. Deal Me In is sponsored by Jay at Bibliophilopolis. This story is included in my copy of Baseball's Best Short Stories edited by Paul D. Staudohar.