3♦ 3♦ 3♦ 3♦ 3♦ 3♦ 3♦ 3♦
She thought of the recurrent waves of pain that for some reason or other she and her husband had had to endure; of the invisible giants hurting her boy in some unimaginable fashion; of the incalculable amount of tenderness contained in the world; of the fate of this tenderness, which is either crushed or wasted, or transformed into madness; of neglected children humming to themselves in unswept corners; of beautiful weeds that cannot hide from the farmer.
(photograph obtained from goodreads.com)
I first became familiar with Vladimir Nabokov in the early 1980's when The Police referred to him and his infamously banned novel Lolita in their song "Don't Stand So Close To Me":
He starts to shake and cough
Just like the old man in
That book by Nabokov
(photograph obtained from google images)
Later in the 80's (or, who knows, it may have been the 90's by then), I actually read Lolita and while, yes, I found it disturbing, I also became fascinated by the way Nabokov put words together – so I had to finish it.
Now all these decades later, I have finally arrived at another of Nabokov's work-his short story "Symbols and Signs" and I find that his way with words didn't begin or end with Lolita. I also find that if one wants to recommend Nabokov but might be leery of recommending Lolita go for "Symbols and Signs". It's much tamer but still a great story.
In short, "Symbols and Signs" tells of an elderly Russian couple living in New York City who has a son with a mental illness in a nearby sanitarium. As the reader, we don't know many specifics of the son's illness. We also get no resolution at the story's end.
What we do get is a portrait of a long-married couple who has had their share of problems perhaps both in Russia and in New York. The care taken by the parents in selecting the right birthday present for their son displays their dedication. At the same time, it shows the reliance they have on each other.
It seems the couple has gained strength from adversity as opposed to letting it tear them apart. Though not plot driven, Nabokov beautifully shows the reader an example of survival.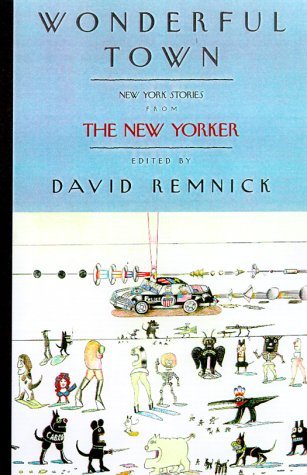 I read "Symbols and Signs" when I selected the Three of Diamonds for Week 8 of my Deal Me In 2017 short story project. It's included in my copy of Wonderful Town: New York Stories from The New Yorker edited by David Remnick. My Deal Me In List can be found here. Deal Me In is hosted byJay at Bibliophilopolis.
Have you read anything by Vladimir Nabokov? What would you recommend?