A♦  A♦  A♦  A♦  A♦  A♦  A♦  A♦
Me against you. My record, my career, my house, my family, my life, my mutual funds and beer distributorship against yours. He's been hit in the elbow, the knee, the groin, the head. Nothing fazes him. Nothing. Murmuring a prayer to Santa Griselda, patroness of the sun-blasted Sonoran village where he was born like a heat blister on his mother's womb, Hector Hernan Jesus y Maria Quesadilla will step into the batter's box, ready for anything.
It's the first week of Deal Me In 2016 and I've selected the Ace of Diamonds which brings me to "The Hector Quesadilla Story" by T. Coraghessan Boyle. This also happens to be the first work of Boyle's that I've read even though I have read numerous posts from fellow book bloggers about his work. This story is included in my copy of Baseball's Best Short Stories edited by Paul D. Staudohar. My Deal Me In 2016 list can be found here. Deal Me In is sponsored by Jay at Bibliophilopolis.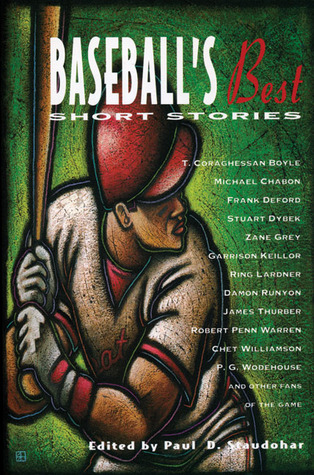 "The Hector Quesadilla Story" is the age-old story of an aging baseball player. I have to give Boyle credit for giving it his own spin and making it into something more than a cliche. Boyle's writing, at least in this story, is choppy but the choppiness gives the writing a wittiness that keeps it from just being choppy.
Hector's family attends a game in which Hector is expecting to be asked to play. I found it humorous (and an interesting touch) that throughout most of the game when Hector looks up at his family in the stands, he sees his son reading a book.
As the game comes to a point where Hector is thinking he will be asked to play, Hector's imagination begins to take over – or so we think. It's difficult to determine whether the action is actually taking place or whether it's in Hector's head. And that vagueness makes the story's ending work. I am able to appreciate stories that don't have definite conclusions; however, I feel a baseball game needs to have some sort of concrete ending – who wins and who loses?
Unless, of course, it's a game that goes on forever in the thoughts of an aging player.