9♦  9♦  9♦  9♦  9♦  9♦  9♦  9♦
It was child's play for Speed to pick it up and heave it over to Merkle before Jack got there. If anybody else had been playin' third base the bag would of ducked out o' the way o' the wallop; but even the bases themselves was helpin' him out.
Ring Lardner, probably one of the most well-known writers of baseball stories, serves up some usual humor in his short story "Horseshoes" where the "punchline" is revealed at the beginning; however, the story presents the "joke".
I wouldn't say that it is necessarily a joke to Grimes, the teller of the story; however, knowing the comment that Speed Parker makes to him after Grimes' World Series – winning catch gives the story some humorous momentum – and it's a rather rambling story that would have otherwise seemed a little too long.  As the title might suggest, Parker's comment insinuates that Grimes' catch was simply luck. I'll let you read the rest of the story to find out why that is so funny.
As most of Lardner's baseball stories go, "Horseshoes" contains a considerable amount of colloquial story-telling (I kept wanting to read the story out loud) and some detailed baseball plays. All of this could have been somewhat tedious in the hands of a lesser author, but Lardner made me want to keep reading.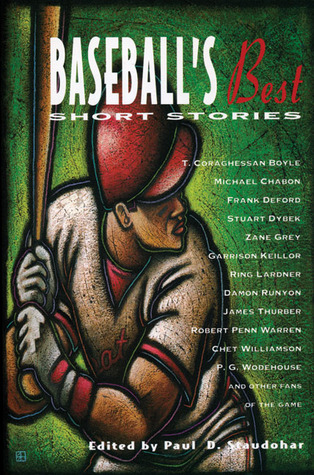 I selected this story when I drew the Nine of Diamonds for Week 17 of my Deal Me In 2016 short story project. This story is included in my copy of Baseball's Best Short Stories edited by Paul D. Staudohar. My Deal Me In 2016 list can be found here. Deal Me In is sponsored by Jay at Bibliophilopolis.