10♦ 10♦ 10♦ 10♦ 10♦ 10♦ 10♦ 10♦
Peter Taylor's short story "A Sentimental Journey" is the first of my New York City stories that is not about New York City residents but about travelers visiting The Big Apple.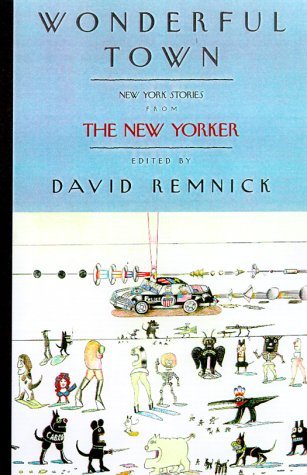 It's 1939 and the unnamed narrator and his college roommate travel from Kenyon College in Gambier, Ohio to New York City to visit "girlfriends". Both young men have aspirations of being writers and have larger-than-life ideas of what might happen in the city.
As Taylor relays the trip, he uses what could be considered minor details to give the reader background on both the travelers and the trip. Douglass House, the dormitory in which they live with seven other guys, enlightens the reader to the lack of camaraderie between all nine guys including the two embarking on the journey. The car they "borrow" from a student who recently left the college because of recent success as a writer gives the reader the idea of the kind of success these two are looking for but haven't yet found.
Not finding success in both career and love or the fear of not finding it brings the two men to blows a couple of times during the story. A brief glimpse of the narrator as a professor allows the reader to realize that the story is a flashback and that perhaps the narrator's aspirations never completely materialize:
Before seeing me again in the car that November night in 1939, picture me for just a moment – much changed in appearance and looking at you through gold-rimmed spectacles – behind the lectern in a classroom. I stand before the class as a kind of journeyman writer, a type of whom Trollope might have approved, but one who has known neither the financial success of the facile Harvard boy [his roommate] nor the reputation of Carol Crawford [his roommate's girlfriend].
He goes on to indicate that he is probably happy, now, making the title of the story appropriate, but in addition to a sentimental journey, it's also a bittersweet remembrance.
This story is included in my copy of Wonderful Town: New York Stories from the New Yorker edited by David Remnick. I read it when I selected the Ten of Diamonds for Week 23 of my Deal Me In 2017 Short Story project. My Deal Me In List can be found here. Deal Me In is hosted by Jay at Bibliophilopolis.