7♦ 7♦ 7♦ 7♦ 7♦ 7♦ 7♦ 7♦
Then, with William tight in Freddie's arm, the three of them walked down the street just like everyone else.
Laurie Colwin's "Another Marvelous Thing" tells the story of Freddie, an expectant first-time mom who finds herself in a New York City hospital a little earlier than normal due to high blood pressure.
Colwin sets up a contrast between Freddie's hospital day and the busy New York City day she sees from her window. This contrast emphasizes the isolation Freddie feels even though the doctors and nurses and her husband, Grey, continue buzzing in and out of her room checking her and her baby's vital signs. It emphasizes the way Freddie feels different from the rest of the world.
(photo obtained from goodreads.com)
What I found intriguing about the story is the way Colwin makes all of Freddie's fears and worries so palpable. She makes Freddie's fears and worries mine. While reading the story, I couldn't help wondering whether Freddie and the baby would make it even though the doctors repeatedly reassured her. I couldn't help wondering whether Grey was going to do something stupid. Would it all turn out OK?
I'm perhaps giving away too much but the story's title phrase gives a clue as to how things turn out – even though I didn't see this phrase in the story. I even went back and looked a second time. I don't think I missed it.
All in all, it's a pleasant enough story. I'd recommend it.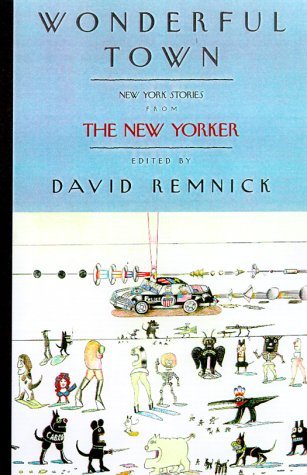 I read "Another Marvelous Thing" when I selected the Seven of Diamonds for Week 2 of my Deal Me In 2017 short story project. It's included in my copy of Wonderful Town: New York Stories from the New Yorker edited by David Remnick. My Deal Me In List can be found here. Deal Me In is hosted by Jay at Bibliophilopolis.