A♦ A♦ A♦ A♦ A♦ A♦ A♦ A♦
John Cheever has slowly made his way into my circle of authors that I admire. "The Five-Forty-Eight" is only the third story of his that I've read. The others are "The Country Husband" and "The National Pastime". If it wasn't for writing so well, I might consider his stories tedious. They are full of detail – not just physical detail but extra side characters that with a lesser author would seem out of place. "The Five-Forty-Eight" allows me to include Cheever in that type of author like Alice Munro that can fit into a short story what most authors would have to include in a novel.
(photo obtained from goodreads.com)
I read this story when I selected the Ace of Diamonds for the very first week of Deal Me In 2017. It's included in my copy of Wonderful Town: New York Stories from The New Yorker edited by David Remnick. My Deal Me In List can be found here. Deal Me In is hosted by Jay at Bibliophilopolis.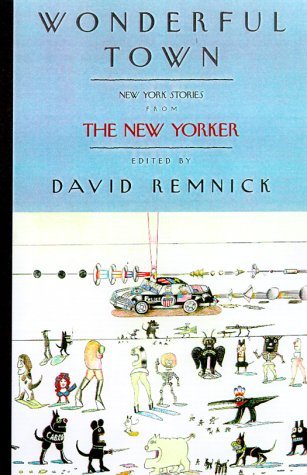 Blake has an extramarital tryst with his new secretary and then fires her. Welcome to the fabulous 50's! Of course, I'm wrong to imply that the 1950's somehow cornered the market on chauvinism and this story is not a "that's just the way it is" story anymore than the television series Mad Men was. It was difficult not to think of Mad Men as I read "The Five-Forty-Eight". The comparison only becomes greater half way through when the reader realizes that Blake is a last name as Cheever reveals that Blake's wife is Louise Blake. I find this minor detail fascinating and wonder what purpose Cheever may have had for choosing "Blake" for his protagonist's name.
As the story proceeds, it becomes one of the best revenge stories I've read. Guess who says these chilling quotations?
"Even if I did have to kill you, they wouldn't be able to do anything to me except put me back in the hospital, so you see I'm not afraid. But let's sit quietly for a little while longer. I have to be calm."

"Oh, I've been planning this for weeks. It's all I've had to think about. I won't harm you if you'll let me talk. I've been thinking about devils. I mean if there are devils in the world, if there are people in the world who represent evil, is it our duty to exterminate them?"
And on a less spine-tingling note, I couldn't help think about public transportation. The 5:48 in the title is a train out of New York City – a non-express train. While I've never lived in a city where public transportation might be considered the norm, I have utilized it. There is nothing better to a reader and book lover (or at least not to this one) than to spend a commute reading while someone else does the driving.
What have you read by John Cheever? And what's your experience been with public transportation and reading?