10♥ 10♥ 10♥ 10♥10♥ 10♥ 10♥ 10♥
I decided not to rest until I knew for certain what had happened to Esther and also to that half writer, half politician I remembered from East Broadway. But I grew busier from day to day. The cafeteria closed. The neighborhood changed. Years have passed and I have never seen Esther again. Yes, corpses do walk on Broadway. But why did Esther choose that particular corpse? She could have got a better bargain even in this world.
Isaac Bashevis Singer uses as a backdrop for his short story "The Cafeteria" a – you guessed it – cafeteria; however, he takes what might be considered recurring leisurely lunches to more universal heights – working in the evils of the twentieth century and the human condition in general.
Aaron, an acclaimed author, visits a New York City cafeteria on a regular basis. Various acquaintances and strangers usually join him. The group seems to change frequently but most of them are of European origin, Jewish, and have been in New York City since the 1930's. Some survived the atrocities of World War II and arrived from Europe since then.
Through decades of lunches, a woman, Esther, joins him occasionally disappearing for years at a time. Esther falls into that category of friends who came from Europe after the war. Singer uses Esther's potential psychosis to haunt the story with real questions about this world we live in. Questions that haven't gone away since this story's 1968 publication.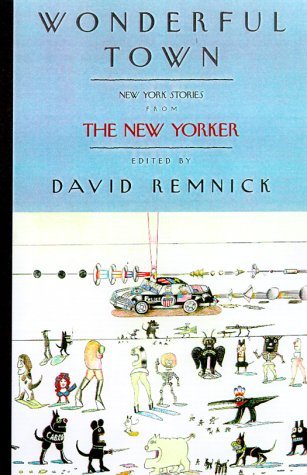 Each year with Deal Me In, one of the first few stories I read jumps out as a potential favorite and "The Cafeteria" is that story for 2017. It's included in my collection Wonderful Town: New York Stories from the New Yorker edited by David Remnick. I read it when I selected the Ten of Hearts for Week 3 of Deal Me In 2017. My Deal Me In List can be found here. Deal Me In is hosted by Jay at Bibliophilopolis.
Next week, I'll be leaving New York City to visit "Country Boys" by Rusty Barnes.