J♦ J♦ J♦ J♦ J♦ J♦ J♦ J♦
Because she was a woman, she was given the manager's dressing room, and Hemmie [the manager] had to dress with the team. He was sixty-one, a heavyweight, and he had a possum tattoed on his belly alongside the name "Georgene", so he was shy about taking his shirt off in front of people. He hated her for making it necessary. Other than that, he thought she was a tremendous addition to the team.
To use a folksy term that Garrison Keillor might use himself, I would describe his short story "What Did We Do Wrong?" as "a hoot".
Annie Szemanski becomes the first female Major League baseball player and nobody can deny that she is a great player. This is where Keillor's satirical abilities come in to play and it leads to some of the funniest writing I've read in a while.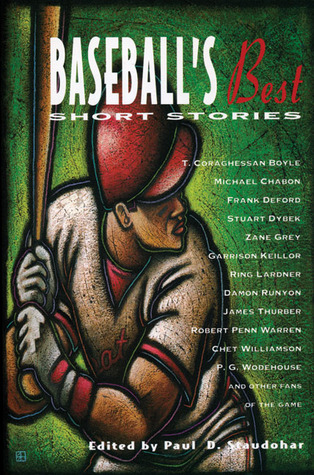 Keillor satirizes the fact that society can't just let a woman play baseball. Because nobody can complain about her abilities, the press and fans decide to complain about her tobacco chewing habit and the tobacco brand she chews:
Then, bottom of the second, when she leaned over in the on-deck circle and dropped a stream of brown juice in the sod, the stadium experienced a moment of thoughtful silence.
And then, Keillor makes the relationship between Annie and her fans the same as a typical, or stereotypical, relationship between a married couple with Annie as the wife and the thousands of fans as the husband. The title comes from one of the many and often hilarious signs that Annie's fans bring to her games.
This is the first of Keillor's work I've ever read even though I've been familiar with him as a celebrity/personality for a long time. This story is included in my copy of Baseball's Best Short Stories edited by Paul D. Staudohar. I read this story when I selected the Jack of Diamonds for Week 46 of my Deal Me In 2016 short story project. My Deal Me In 2016 list can be found here. Deal Me In is sponsored by Jay at Bibliophilopolis.