4♦ 4♦ 4♦ 4♦ 4♦ 4♦ 4♦ 4♦
In the more humorous baseball stories I've read this year, the players and managers and their friends, family and acquaintances all have a little bit of caricature about them and Damon Runyon's story "Baseball Hattie" isn't any different. However, as a female protagonist, Runyan shapes Hattie to be at least a little less stereotypical. She has more strength than many of the women I've read in these baseball stories and she doesn't allow her professional pitcher husband, Haystack Duggeler and his buddy, Armand Fibleman, to control her life. In a brief moment of calculated anger, she actually controls the lives of these two men.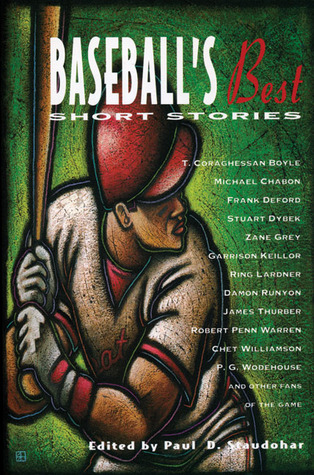 The question I asked as I read the story and what made the story a little better than it would have been is who is this narrator telling the story? We're not given his name and we don't know his relationship to the characters; however, he apparently knows Hattie, Haystack, and Armand.  In the same manner many of these baseball stories are told, he narrates the way he talks: dialect, poor grammar, slang, etc.
I enjoyed his desparate attempt to be polite while describing Hattie's former profession prior to marrying her pitcher husband:
It seems that the trouble with Hattie is she is in business up in Harlem, and this business consists of a boarding and rooming house where ladies and gentlemen board and room, and personally I never see anything out of line in the matter, but the rumor somehow gets around, as rumors will do, that in the first place, it is not a boarding and rooming house, and in the second place that the ladies and gentlemen who room and board there are by no means ladies and gentlemen, and especially ladies.
I guess I can say that there is somewhat of a cuteness to the story but it's not at the top my list of stories I would recommend.
This story is included in my copy of Baseball's Best Short Stories edited by Paul D. Staudohar. I read it when I selected the Four of Diamonds for Week 35 of my Deal Me In 2016 short story project. My Deal Me In 2016 list can be found here. Deal Me In is sponsored by Jay at Bibliophilopolis.