10♠ 10♠ 10♠ 10♠ 10♠ 10♠ 10♠ 10♠
Julian and Marsha have an issue with organization and accumulating things in T. C. Boyle's short story "Filthy With Things" which is included in my copy of The Oxford Book of American Short Stories edited by Joyce Carol Oates.  I read it this week when I selected the Ten of Spades for Week 33 of my Deal Me In 2016 short story project. My Deal Me In 2016 list can be found here. Deal Me In is sponsored by Jay at Bibliophilopolis.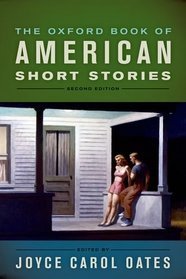 Boyle achieves significant hilarity early on in the story by frequently including the description of some oddball antique or quirky collectible throughout the plot:
If they were to drain the pool, where would Marsha keep her museum-quality collection of Early American whaling implements, buoys and ship's furniture, not to mention the two hundred twelve antique oarlocks currently mounted on the pool fence?
Susan Certaine (great name!) enters the picture offering her paid services with Nazi-like intensity. She uses Imelda Marcos' shoe problem as a reference and Julian hires her for "help".
As the story continues, Susan Certaine and her squad cease to be Nazi-like and become actually totalitarian in their control over Julian and his wife. This still makes for an excellent story; however, it's not as funny as it began. Of course, I've always been one to think a little bit of clutter makes a house more of a home.
This is the second story by T. C. Boyle that I've read (the other one was "The Hector Quesadilla Story" for Week 1 of DMI 2016) and while I've enjoyed them very much, I'm still waiting for the one that will completely blow me away. I feel like it's out there somewhere. Next week, I will be reading another Boyle story "The Devil and Irv Cherniske". Maybe that will be the one.
How about you? Any T. C. Boyle suggestions?