I could picture hundreds and hundreds of boys living on the wrong sides of cities, boys with black eyes who jumped at their own shadows. Hundreds of boys who maybe watched sunsets and looked at stars and ached for something better. I could see boys going down under street lights because they were mean and tough and hated the world, and it was too late to tell them that there was still good in it, and they wouldn't believe you if you did. It was too vast a problem to be just a personal thing. There should be some help, someone should tell them before it was too late. Someone should tell their side of the story…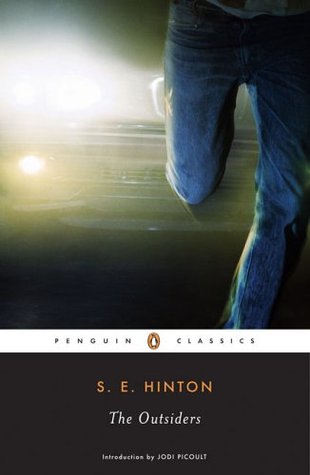 I first read The Outsiders by S. E. Hinton decades ago when I was in seventh grade. I remember my English teacher encouraging us to read outside of what was required for class – which is something I never had a problem doing. To get extra credit for this reading, we would individually take about fifteen minutes to tell the teacher about the book we read. I specifically remember my teacher's eyes getting very big as I recounted the plot of Hinton's novel.
All these years later, The Outsiders still holds up as a great story.
On the one hand, Hinton uses stereotypes to tell her story of the conflict between the "greasers" and the "Soc's" (short for Socials, so my guess is it's pronounced more like sosh – with a long 'o'- than sock) in an Oklahoma town. She then sometimes slowly sometimes quickly tears down those stereotypes as the story unfolds showing that stereotyping tends to be what causes conflicts between groups of different people.
Published in 1967 and geared towards teenagers about teenagers, I find it a little odd how little profanity is used. When the narrator, Ponyboy, and his greaser friends say "golly", it seems a little dated; however, I am probably seeing the story through my own stereotypes when I read the book this time around. In seventh grade, I remember thinking it strange that the story is set in Oklahoma. At the time, I thought the gang violence in the story only occurred in places like New York City.
I'm grateful how reading fiction has and continues to expand my horizons.