K♦ K♦ K♦ K♦ K♦ K♦ K♦ K♦
It wasn't long before he got out of his chair, though, and lay on the grass, just like he always used to do, lying relaxed all over just like an animal. I was a little bit embarrassed at first, I reckon, and maybe he was, too, for we hadn't sort of sat down together like that for near fifteen years, and he had been away and been a big league pitcher, at the top of his profession almost, and here he was back. He must have been thinking along the same lines, for after he had been there on the grass a while he gave a sort of laugh and said, "Well, we sure did have some pretty good times when we were kids going around this country with our guns, didn't we?" I said we sure did. I don't know whether Luke really liked to remember the times we had or whether he was just polite and trying to get in touch with me again, so to speak.
I love the sidekick narrator. Robert Penn Warren's short story "Goodwood Comes Back" gives a great example of one. Unnamed, the narrator, as a kid, hangs out (or is allowed to hang out) with his more popular friend, Luke Goodwood. Luke also happens to be very good at baseball unlike the narrator.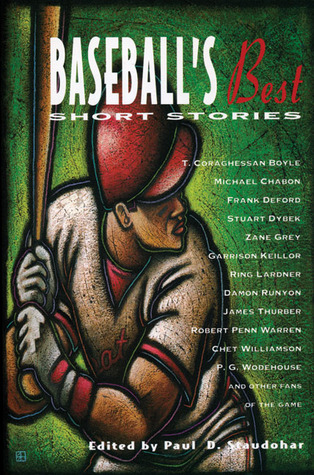 From the grown up narrator, the reader learns of Luke's small southern town ways as well as his almost but not quite successful baseball career. Much of the story revolves around a little bit of childhood reminiscing on the narrator's part and some brief encounters with Luke after he returns from his baseball career. The title implies Luke's return home; however, he's not the only one who has left. The narrator himself has left and only runs into Luke when he returns home to visit his sister. While the reader never gets answers, it seems as though the narrator perhaps has become more successful than Luke but still has a little bit of the childhood awe he used to feel.
This story is a great example of comparison and contrast between the sidekick and his friend. Warren's writing style is simple, stripped down, with some southern dialect that works well.
I read this story when I selected the King of Diamonds for my Deal Me In 2016 short story project. It's included in my copy of Baseball's Best Short Stories edited by Paul D. Staudohar. My Deal Me In 2016 list can be found here. Deal Me In is sponsored by Jay at Bibliophilopolis.