3♦ 3♦ 3♦ 3♦ 3♦ 3♦ 3♦ 3♦
I want more Wodehouse. "The Pitcher and the Plutocrat" is my first work by P. G. Wodehouse. According to the fantastic Short Story Magic Tricks, this is an early work of Wodehouse and he only gets better. If that's the case, then I can't wait to read more.
In a story with some little twists and turns, baseball brings together a young man and woman who might not be together, otherwise. I found the events by which this happens to be hilarious.  I also enjoy the role baseball plays in the story and that it's simply a role. A specific game is not the entire story.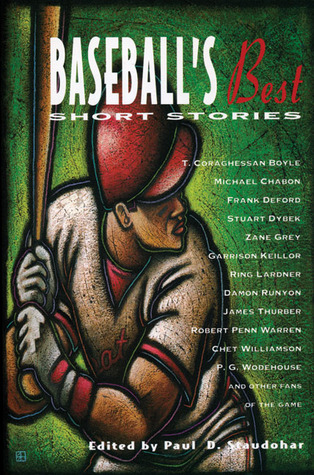 In just this story, Wodehouse humor has sucked me in. With all due respect to Jersey City, sentences like this one give me endless chuckles:
Wherever civilization reigned, and Jersey City, one question alone was on every lip: Who would win?
Or this funny little bit of conversation:
"Oh, Clarence," she cried, "my precious angel wonder-child, I don't know how to begin."

"Begin just like that," said Clarence approvingly. "It's fine. You can't beat it."
What P. G. Wodehouse stories have you read? Feel free to recommend some, I'm feeling a Wodehouse week coming on sometime in the near future.
I read "The Pitcher and the Plutocrat" after drawing the Three of Diamonds for my Deal Me In 2016 short story project. My Deal Me In 2016 list can be found here. Deal Me In is sponsored by Jay at Bibliophilopolis.  This story is included in my copy of Baseball's Best Short Stories edited by Paul D. Staudohar.