9♠ 9♠ 9♠ 9♠ 9♠ 9♠ 9♠ 9♠
"The way I look at it, Tub, no man is an island. You've got to trust someone."
In 2014, I read Tobias Wolff's short story "Bullet in the Brain" and found it darkly humorous. For Week 6 of Deal Me In 2016, I selected the Nine of Spades which corresponds to Wolff's story "Hunters in the Snow".  I discovered the same dark humor included here.
Any time a story contains dark humor and blood and snow, I think of the films of Joel and Ethan Coen – especially Fargo.  So it came as no surprise when they kept popping into my head as I read "Hunters in the Snow".
Kenny, Tub and Frank go hunting on a winter day in Washington State. By way of an accident (or perhaps it could be called more of a misunderstanding), one of the friends is shot. The humor comes in the ability of Wolff to juxtapose the life-endangerment of the wounded friend with the need of the other two, on the way to the hospital, to stop at local diners to get coffee, breakfast, warm up and discuss a few personal situations. With each stop, they check on their still-living friend in the back of their pickup truck and wonder why his blankets have blown off.
Based on the personal situations of the two friends, it's not difficult to realize that neither of them are exceptionally bright. But to my surprise, all three of the characters are likable. For comical stories, it doesn't get much better than this one.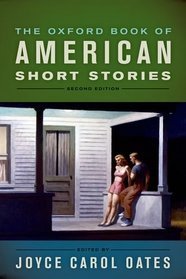 "Hunters in the Snow" is included in my copy of  The Oxford Book of American Short Stories edited by Joyce Carol Oates. My Deal Me In 2016 list can be found here. Deal Me In is sponsored by Jay at Bibliophilopolis.