10♦  10♦  10♦  10♦  10♦  10♦  10♦  10♦
I drew the Ten of Diamonds this week for my Deal Me In 2016 short story project. Diamonds is the suit that corresponds to stories about baseball and for Week 3, I read J. F. Powers' "Jamesie". This story is included in my copy of Baseball's Best Short Stories edited by Paul D. Staudohar. My Deal Me In 2016 list can be found here. Deal Me In is sponsored by Jay at Bibliophilopolis.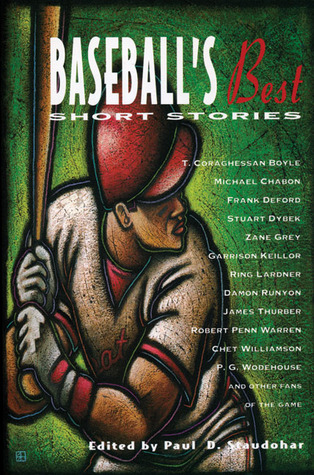 "Jamesie" appears to be at least somewhat autobiographical in that it takes place in Jacksonville, Illinois where Powers grew up. It also is set during the presidency of Calvin Coolidge which is when Powers would have been the same age as his protagonist, Jamesie, and J. F. Powers full name is James Farl Powers.
The story is another age-old tale like T. C. Boyle's "The Hector Quesadilla Story". This time it's the story of a young kid realizing that his hero isn't as noble and righteous as he wanted him to be. Lefty, the pitcher for the Jayville Indies, tends to give Jamesie a good deal of attention for a locally famous minor-league baseball player. Lefty gets Jamesie in the games for free and always makes a point to talk to him.
What Powers does amazingly well is let the readers understand why Jamesie would revere Lefty so much and at the same time, make the readers realize that Lefty isn't really a good person.
The story is told from the point of view of Jamesie, whose mother is dead and whose father is distant. He is on his own to make money so he can buy each new volume of the serial story Baseball Bill. He has an Aunt Kate who at least tries to be a mother to him and two uncles that tend to make fun of him.  When Lefty falls from grace, Jamesie realizes that the other adults in his life were right. That's pretty much a kick in the gut to him.
In spite of the sadness and frustration that hang over the story, a section in which Jamesie and his friend, Francis, play out Baseball Bill in the backyard made me smile:
"And who's behind this, Blackie?"

"I don't know."

"Say it's the powerful gambling syndicate."

"It's them."

"Ah, ha! Knock the ash off your cigar."

"Have I got one?"

"Yes, and you've got strong drink on your breath, too."

"Whew!"

Blackie should have fixed him with his small, piglike eyes.

"Fix me with your small, piglike eyes."

"Wait a minute, Jamesie!"

"Bill. Go ahead. Fix me."

"OK But you don't get to be Bill all the time."

"Now blow your foul breath in my face."

"There!"

"Now ask me to have a cigar. Go ahead."
It kind of reminds me of when my friends and I would argue over who got to be Johnny Bench and Pete Rose.