Deal Me In – Week 48
3♦ 3♦ 3♦ 3♦ 3♦ 3♦ 3♦ 3♦
With all of it's beauty, livestock and fences, a wintery rural West Virginia takes center stage in Pinckney Benedict's short story "Mercy". The fence provides an interesting parallel for the human divisions in the story. The father is a harsh, hard-working cattle farmer while his young son, just as hard-working, is a day-dreamer and a fence fixer.
The neighbor on the other side of the fence has bought miniature horses to be raised as pets which contrasts, at least to the father, with the cattle that is being raised for beef.  The idea of a pet horse is useless to the father even though he understands his son is interested in one:
When they had satisfied themselves, for the moment at least, the horses began to play. I searched among them until finally I found the sorrel. She was racing across our field, her hooves kicking up light clouds of ice crystals. She was moving more quickly than I had ever seen her go, but she wasn't chasing another horse, and she wasn't being chased. She was teasing the impassive angus steers, roaring up to them, stopping just short of their great bulk; turning on a dime and dashing away again…She yearned to charm them. She was almost dancing in the snow.
While the story never gets far enough for the reader to find out whether the son actually gets a pet horse, the story's title gives a clue to the unexpected turn of events that occurs in the story's final sentence. The way this plot twist works is a testament to a great story teller.  I'm going to want to read more of Benedict's work.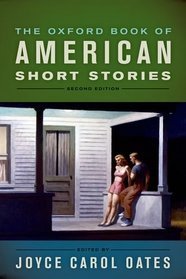 I read this story when I drew the Three of Diamonds for my Deal Me In 2015 short story project. It's included in The Oxford Book of American Short Stories edited by Joyce Carol Oates. My Deal Me In 2015 list can be seen here. Deal Me In 2015 is sponsored by Jay at Bibliophilopolis.