Deal Me In – Week 39
4♠  4♠  4♠  4♠  4♠  4♠  4♠  4♠
According to Joyce Carol Oates' introduction, while probably written sometime in the early part of the Twentieth Century, Kate Chopin's story "The Storm" wasn't published until 1969.  Oates goes on to say that the subject matter of the story would have made it difficult to have gotten published when it was actually written.  I read this introduction in The Oxford Book of American Short Stories (edited by Joyce Carol Oates) when deciding to include "The Storm" in my Deal Me In 2015 short story list – so of course my curiosity has been up ever since wondering what might make the story so controversial.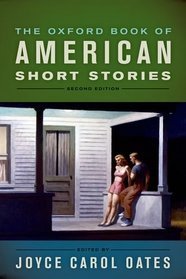 In picking the Four of Spades for Week 39 of Deal Me In, I've finally been able to read "The Storm".  The story centers around a torrid affair during a rain storm by a man and a woman who are married to other people.  By today's standards, the description of the affair is relatively tame; however, Chopin includes an explicitness that probably warrants Oate's comments:
The generous abundance of her passion, without guile or trickery, was like a white flame which penetrated and found response in depths of his own sensuous nature that had never yet been reached.
The subject matter and its description isn't what makes this story memorable to me. The fascinating aspect is the chain-like manner in which the story is structured. With the affair occuring in the middle of the story, the sections before highlight the woman's husband and her son. The sections after highlight the man and his wife. The story continues in real (or present) time with no flashbacks.  This structure brilliantly relays the interconnectedness of everyone and displays the idea that, in spite of the seclusion of the affair, it has an effect on more than just the two involved.
My Deal Me In 2015 list can be seen here.  Deal Me In 2015 is sponsored byJay at Bibliophilopolis.