Deal Me In – Week 38
7♠  7♠  7♠  7♠  7♠  7♠  7♠  7♠
A little girl was driving home her cow, a plodding, dilatory, provoking creature in her behavior, but a valued companion for all that. They were going away from whatever light there was, and striking deep into the woods, but their feet were familiar with the path, and it was no matter whether their eyes could see it or not.
Sarah Orne Jewett's short story "A White Heron" is a twist on the man vs. nature conflict that finds it's way into so much literature. In this story, it actually is a little girl and nature vs. a man – and the conflict isn't quite as cut and dry as it might be in other stories.
Sylvia lives with her grandmother on a farm away from her parents and siblings in the city.  The reader doesn't get much of a reason as to why she lives away from them but she finds herself lonely even if the animals of the farm and woods keep her occupied.
One day she meets a huntsman who is looking for a white heron to include in his taxidermy collection.  Infatuated with the man, the girl goes to great lengths to find the heron for him.  Once she realizes the heron's location, her mind starts to change and the conflict ensues. I won't give away the decision that the girl makes.  Readers need to discover that for themselves.
The story includes all of the elements of a fairy tale: the woods, a grandmother, a huntsman, animals – without the fairy tale magic.
This story is included in my Oxford Book of American Short Stories edited by Joyce Carol Oates.  In the introduction, Oates suggests that there is a male/female conflict in the story, too.  It's easy to see that the girl could be quite willing to give up a lot for this man – another conflict in which I won't give away the resolution.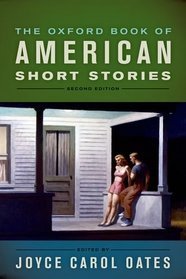 I read this story when I drew the Seven of Spades for my Deal Me In 2015 short story project. My Deal Me In 2015 list can be seen here.  Deal Me In 2015 is sponsored byJay at Bibliophilopolis.