If I were giving a young man advice as to how he might succeed in life, I would say to him, pick out a good father and mother, and begin life in Ohio. -Wilbur Wright as quoted by David McCullough
I'm dedicating this post in memory of my Dad who loved everything about airplanes.  When I was about 5, he took me to the tiny airport in Urbana, Ohio to see a small plane owned by a pilot friend of his.  He said we were just going to see inside it.  Of course, his friend started it up and we took spin over the Dayton, Ohio/Miami Valley area.  He made a habit of taking all of our out-of-town guests to the Wright-Patterson Airforce Museum.
As a result of my Dad's interest and growing up in the Dayton, Ohio area, I've always wanted to know more about Wilbur and Orville Wright so I was thrilled when I saw that premier historian David McCullough's next book topic would be about these brothers that took the world to the skies.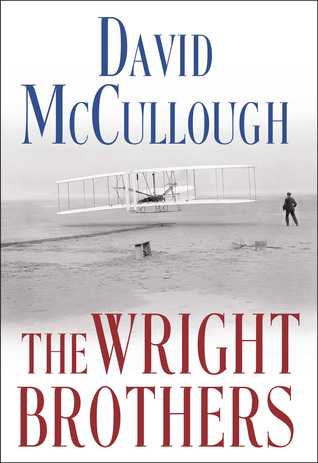 The Wright Brothers does not disappoint.  I admit that I had some concern going into it that the science and mechanics of flight would take over the history, personalities and events of Wilbur and Orville's lives; however, McCullough includes just enough to give any reader the impression of how much genius went into the inventors' daily lives and the process by which their dream of mechanically controlled flight came to fruition.
I had never realized how they actually became world celebrities during the first decade of the twentieth century.  Wilbur drew crowds by the thousands to watch him take twenty minute flights over Paris, France – the country that seemed to embrace their invention first instead of their United States home.  The climax of the book; however, comes when Wilbur flies over New York Harbor and around the Statue of Liberty during a Henry Hudson celebration. McCullough's description was the next best thing to being there – the stuff movies are made of (there's an idea!). McCullough portrayed another touching scene when the brothers' eighty year-old father, Bishop Milton Wright, finally went up in a plane flown by Orville.  His only words apparently were "Higher, Orville, higher"!
McCullough presents the brothers as being known as much for their strength of character as for their invention.  And their younger sister, Katherine, travelled with them and became almost as well-known.  Neither brother ever married and seemed to never have even the remotest desire to be in a relationship.  Their friendships consisted of a handful of people who worked at their bicycle shop in Dayton, family and a few other flight enthusiasts of the time.  Most of the presidents and dignitaries with whom they came in contact praised them for their impeccable character and humility.
I'm grateful to McCullough for finally putting background and personality to these two people who have fascinated me for most of my life.