Deal Me In – Week 36
K♠  K♠  K♠  K♠  K♠  K♠  K♠  K♠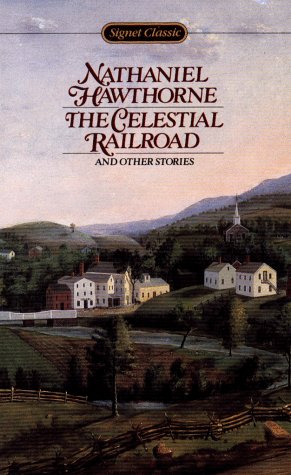 Given Nathaniel Hawthorne's penchant for the eerie and macabre, I wasn't surprised to find he had a short story called "The Wives of the Dead".  While an excellent story with great writing (that part didn't surprise me either), I wouldn't say that it registers with the scary factor so much as the melancholy factor.
Mary and Margaret, two sisters-in-law, both mourning their husbands who are brothers, sit in their parlor by the fireplace. Instead of action in the story, Hawthorne puts much heart and emotion into it.
The cold light of the lamp threw the shadows of the furniture up against the wall, stamping them immovably there, except when they were shaken by a sudden flicker of the flame. Two vacant armchairs were in their old positions on opposite sides of the hearth, where the brothers had been wont to sit in young and laughing dignity, as heads of families; two humbler seats were near them, the true thrones of that little empire, where Mary and [Margaret] had excercised in love a power that love had won.
Both sisters eventually learn pieces of information that they are afraid to disclose to the other. I found this story to resemble O. Henry's "The Gift of the Magi".  By no means as happy as that Christmas classic, the sisters each make a sacrifice of sort not knowing the full picture that the reader is able to see.
I read this story when I drew the King of Spades for Week 36 of my Deal Me In 2015 short story project. My Deal Me In 2015 list can be seen here.  Deal Me In 2015 is sponsored by Jay at Bibliophilopolis.