DEAL ME IN – WEEK 17
6♦  6♦  6♦  6♦  6♦  6♦  6♦
It's Week 17 of Deal Me In 2015 and I drew the Six of Diamonds.  This brought me to Annie Proulx's short story "The Half-Skinned Steer".  This is the second work of Proulx's that I've read.  Prior to blogging, I had read her short story "Brokeback Mountain".  My Deal Me In 2015 list can be seen here. Deal Me In 2015 is sponsored by Jay at Bibliophilopolis.  Jay also posted about this story last year.
Proulx took me by surprise with her ability to effectively incorporate a cross-country road trip within a short story.  Mero leaves his home of sixty years in Massachusetts to head back to his childhood home of Wyoming where his brother Rollo has died.  Proulx perfectly blends the physical and natural world with Mero's aging confused mind.
In theme, this story reminds me of Jack London's "To Build A Fire" or, for that matter, any of London's man vs. nature stories. In "The Half-Skinned Steer", Proulx doesn't explain the exact outcome of this classic conflict; however, the reader has a good idea who wins.
The story contains one of the best opening paragraphs I've read in a while:
In the long unfurling of his life, from tight-wound kid hustler in a wool suit riding the train out of Cheyenne to geriatric limper in this spooled-out year, Mero had kicked down thoughts of the place where he began, a so-called ranch on strange ground at the south hinge of the Big Horns.  He'd got himself out of there in 1936, had gone to a war and come back, married and married again (and again), made money in boilers and air-duct cleaning and smart investments, retired, got into local politics and out again without scandal, never circled back to see the old man and Rollo, bankrupt and ruined, because he knew they were.
Mero's remembered story of the red-eyed ghostly omen of the half-skinned steer gives the reader a clue as to why he left Wyoming in the first place. The bad luck that had been there sixty years prior (and that Mero apparently left behind) seems to have not gone anywhere.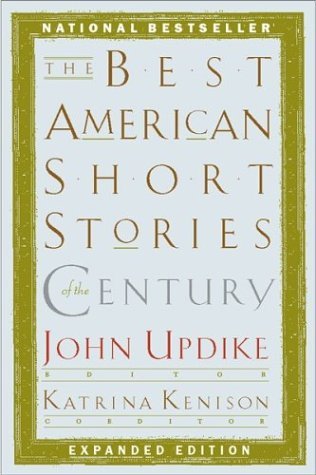 This story is included in my anthology Best American Short Stories of the Century and I can see why.  I think I would include it with a few other stories vying for my favorite of the year.  I highly recommend it.  It's also included in Proulx's collection Close Range: Wyoming Stories.