DEAL ME IN – WEEK 11
6♣  6♣  6♣  6♣  6♣  6♣  6♣  6♣
I've always heard one of the rules of good story-writing is "show, don't tell".  Langston Hughes skillfully demonstrates this concept in his short story "Red-Headed Baby".  If I would tell this story, it would simply be a caucasian sailor stops off the coast of Florida to visit a woman of mixed race with whom he had an encounter three years ago.  The result of that encounter – whether the sailor wants to admit it or not – is the title character.  I don't feel I'm giving anything away by telling the story because the way Hughes shows the plot is what makes the story worth reading – and what makes it masterful.
Hughes writes the story using conversations with the characters involved – some of them one-sided – juxtaposed with poetic paragraphs that share the mood of a character or the geography of the setting.  From the information in the foreword to this story, Hughes is known more for his poetry than his prose, so it shouldn't be a surprise that these passages exist and that they work so well:
Rickety run-down huts, under palm trees.  Flowers and vines all over.  Always growing, always climbing.  Never finished.  Never will be finished climbing, growing.  Hell of a lot of stars these Florida nights.

Betsy's red-headed child stands in the door looking like one of those goggly-eyed dolls you hit with a ball at the County Fair.  The child's face got no change in it.  Never changes.  Looks like never will change.  Just staring – blue-eyed.
The majority of the story is from the point of view of the sailor and it's no surprise that he's not the most likeable person.  The racism and bigotry – and hatred – flow with considerable depth with so few words and Hughes doesn't have to tell this to  the reader.  He shows it loud and clear.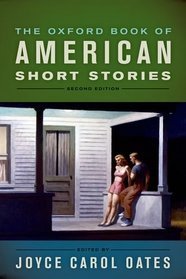 I read this story by drawing the Six of Clubs in my Deal Me In 2015 short story project.  My Deal Me In 2015 list can be seen here.  Deal Me In 2015 is sponsored by Jay at Bibliophilopolis. This story is included in my copy of The Oxford Book of American Short Stories edited by Joyce Carol Oates.