For readable and enjoyable non-fiction, one can't do much better than Laura Hillenbrand.  Her book Seabiscuit pulled me into history and horse racing like I never thought a book could.  Now, I've finally read her second book Unbroken, the story of WWII POW and Olympic runner, Louis Zamperini.  In the same manner as Seabiscuit, Hillenbrand pulls all of her research into a tense, tragic, but ultimately uplifting, story.
In describing the Japanese prison camp, Kwajalein, here's the one paragraph from the book that, to me, embodies the theme of Hillenbrand's story and Zamperini's life:
On Kwajalein, Louis and Phil learned a dark truth known to the doomed in Hitler's death camps, the slaves of the American South, and a hundred other generations of betrayed people:  dignity is as essential to human life as water, food, and oxygen.  The stubborn retention of it,even in the face of extreme physical hardship, can keep a man alive long past the point when he should have died.  The loss of it can carry a man off as surely as thirst, hunger, exposure, and asphyxiation, and with greater cruelty.  In places like Kwajalein, degradation could be as lethal as a bullet.
This "stubborn retention" of dignity plays the key role in Zamperini's experience as an Olympic runner, his month long struggle to live stranded on a life raft in the middle of the Pacific, and his grueling years spent as a prisoner of war in Japan. As I read the story a question kept coming to my mind: was Zamperini's resilient stubbornness inherent in his personality or was it a result of his environment or relationships as a child?  While Hillenbrand doesn't explicitly answer this question, she gives the impression that perhaps it was a little of both.  As a child, he was quite the "terror" and could have very well ended up in juvenile prison; however, his brother, Pete, took an interest in him and encouraged him to channel his activities into running.  He was extremely close to Pete for the rest of their lives. Incidentally, Zamperini just died this past year at the age of 97.  In his seventies, he continued running and even took up skateboarding.  He was known to climb trees into his nineties.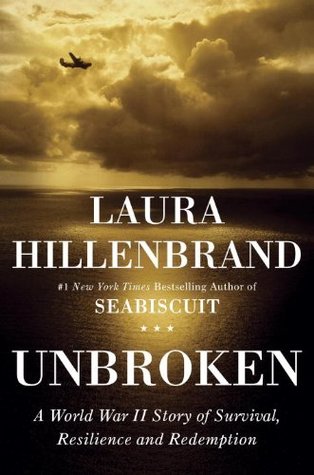 I have seen the recent film version of this book and it is well-made.  The main difference would be that the movie does not give much detail into his life after the war in which he suffered from post traumatic stress syndrome and alcoholism until his conversion to Christianity several years later.  I would say that the religious imagery in the movie is as powerful as anything that could have been spoken outright, though.