10♣  10♣  10♣  10♣  10♣  10♣  10♣  10♣
Week 39 of my Deal Me In 2014 short story project brings me to my final Nathaniel Hawthorne story "Young Goodman Brown".  My Deal Me In 2014 list can be seen here.  DMI is sponsored by Jay at Bibliophilopolis.
I think this is another story that is fairly well-known but I happened to have not read until now.  I have found Hawthorne almost as intriguing this year as Herman Melville.  Both authors are stalwarts of Nineteenth Century American Literature.  To make still another comparison, I've been surprised at how downright scary Hawthorne's stories can be – just as scary as Edgar Allan Poe, another of Hawthorne's American contemporaries.
Young Goodman Brown says goodbye to his new wife, Faith, to embark on a journey in which the reader (and Faith, I think) never gets the full details as to the reason.  The reader gets the distinct impression that less than noble intentions are behind the journey.  Along the way, Brown meets up with an older man.  Is this man behind the purpose of his travels or is he unexpected?  The reader isn't sure.  It doesn't take long to realize that the older man is most likely the Devil himself.  Through eerie descriptions Goodman and the Devil travel through the woods.  The Devil seems to take pleasure in pointing out how many of Goodman Brown's church people are secretly working for him.  Ultimately, Goodman gets the impression that even his wife, Faith (great name!), might be in cahoots with his travel companion.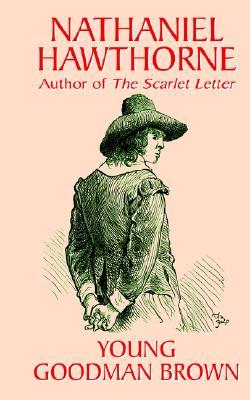 The story leaves many questions.  Is this all a dream of Goodman Brown or is it real?  Hypocrisy of religious people seems to play a prominent role in Hawthorne's stories.  However, Young Goodman Brown doesn't seem to be completely pure (or puritan) in spite of his name (another good one!).  The possible change in Faith is what makes me think the story is more dream than real.  If any character is pure, it would be her.  But if this is a dream, it's a dream that has a drastic effect on the rest of Young Goodman Brown's life.
In this story, as in all of Hawthorne's stories I've read, I love the way he describes the rugged colonial Massachusetts landscape.  Letting him take me back to a younger country with forests and footpaths, scary though they may be, will make me continue to visit and revisit Hawthorne's writing.